The Black Rock Shooter Wiki [Wikia URL: w:c:blackrockshooter] is the unofficial wiki for the Black Rock★Shooter concept created by huke and all media associated with it. It was created on February 10, 2010 by Jyuuce, and currently has 148 articles.
Background
Edit
About Black★Rock ShooterEdit
Black★Rock Shooter (ブラック★ロックシューター, Burakku Rokku Shuutaa) is a concept designed by huke which depicts many characters, including the titular character, as girls wielding weapons in a bleak, desolate environment. The concept was first popularized as a song of the same title, performed by Vocaloid Miku Hatsune and composed by ryo of Supercell, and eventually spawned several media, including an OVA, an anime series, and several games based on the concept.
About the Wiki
Edit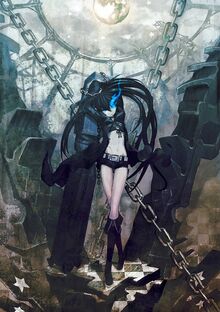 The Black★Rock Shooter Wiki is a wiki dedicated to the Black★Rock Shooter concept and all related media. It spans the original art by huke, the song based on the concept art written by ryo of Supercell, the OVA, game releases, manga series, and the anime series by noitaminA.
The Black★Rock Shooter Wiki was created by Jyuuce in February 20, 2010 as part of Wikia Gaming. However, months after first stepping foot into the wiki, Jyuuce was never seen again and became an inactive user in the wiki.
herald_of_meridian joined the wiki five days after the creation of the wiki. With the absence of then current admin Jyuuce, he continued contributing to the wiki until his request to gain bureaucrat rights was accepted, turning him into the current bureaucrat of the wiki.
Up to the present, the Black★Rock Shooter Wiki continues to serve its purpose as a source for information about Black★Rock Shooter.
Affiliations
Edit
External Links
Edit